"Freeway" Ricky Ross signed letter envelope set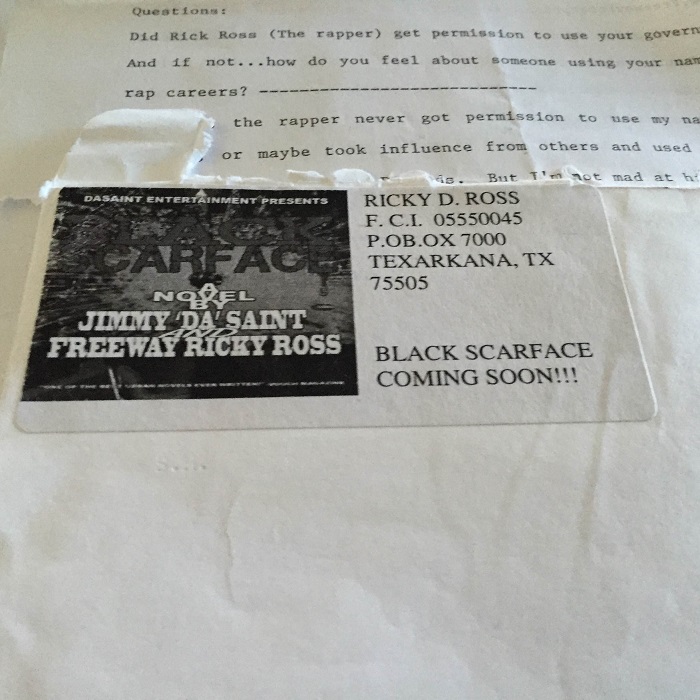 "Freeway" Ricky Ross signed letter envelope set
Richard Donnell Ross (born January 26, 1960), known as "Freeway" Rick Ross, is an American author and convicted drug trafficker best known for the drug empire he established in Los Angeles, California, in the early to mid 1980s.
Ross attended school at Susan Miller Dorsey High School in Los Angeles. He played for the tennis team but was unable to get a college scholarship because he was illiterate.
Ross has said that when he first saw crack-cocaine as a teenager in 1979, he did not immediately believe it was a drug because it looked different from other drugs he had seen.
The nickname Freeway came from Ross' owning properties along the Los Angeles Harbor Freeway and living next to the 110. According to an October 2013 Esquire magazine article, "Between 1982 and 1989, federal prosecutors estimated, Ross bought and resold several metric tons of cocaine. In 1980 Ross' gross earnings were said to be in excess of $900 million – with a profit of nearly $300 million. Converted roughly to present-day dollars: 2.5 billion gross, and $850 million in profit, respectively." During the height of his drug dealing, Ross was said to have sold "$3 million in one day." According to theOakland Tribune, "In the course of his rise, prosecutors estimate that Ross exported several tons of cocaine to New York, Ohio, Pennsylvania and elsewhere, and made more than $600 million between 1983 and 1984."
In 1996, Ross was sentenced to life imprisonment after being convicted for purchasing more than 100 kilograms of cocaine from a federal agent in a sting operation. Later that year, a series of articles by journalist Gary Webb in the San Jose Mercury News revealed a connection between one of Ross's cocaine sources, Danilo Blandón, and the CIA as part of the Iran-Contra scandal.[10] Ross's case was brought to a federal court of appeals which reduced his sentence to 20 years as a result of Ross being over-sentenced. He was released from custody on September 29, 2009.
There is a letter along with questions sent to Ross, from Gorilla Convict. One of the questions, Ross is asked about the rapper Rick Ross, using his name. The letter and envelope are typed. The letter is hand signed, Ricky Ross.