Kyle Bell signed letter envelope set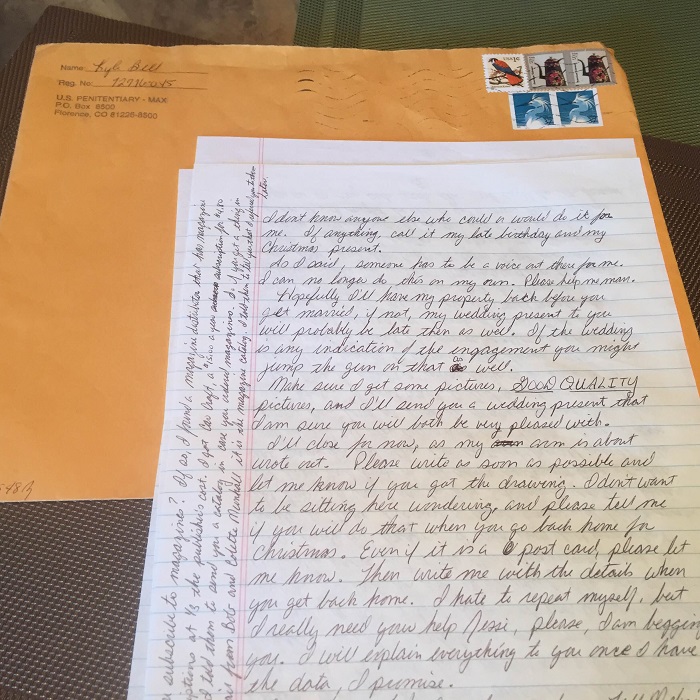 Kyle Bell signed letter envelope set
The man convicted in the 1993 kidnapping and murder of 11-year-old Jeanna North has been moved to a high-security penitentiary in Arizona.
Kyle Kenneth Bell was moved March 23 to a federal prison in Tucson after more than a decade in a super maximum facility in Florence, Colo., where Bell was relocated after an October 1999 escape during a prison transfer, leading to an 88-day long manhunt.
The Federal Bureau of Prisons is unable to release the basis for Bell's transfer to Tucson, but spokesman Edmond Ross said inmates can be moved for a number of reasons, including program needs, medical reasons, discipline, population control or safety concerns.
Though Bell has a history of escape, Goff said he isn't sure Bell poses any more of a concern than other high-security prisoners.
"I think there's a risk anytime you transport prisoners who are serving sentences for the rest of their lives," he said.
Bell was convicted in 1999 and will serve a life sentence for North's murder, which begins after another 30-year sentence for an unrelated molestation charge.
The letter and envelope are both hanswritten. The letter is signed, Kyle.