Richard Allen Davis signed copy of document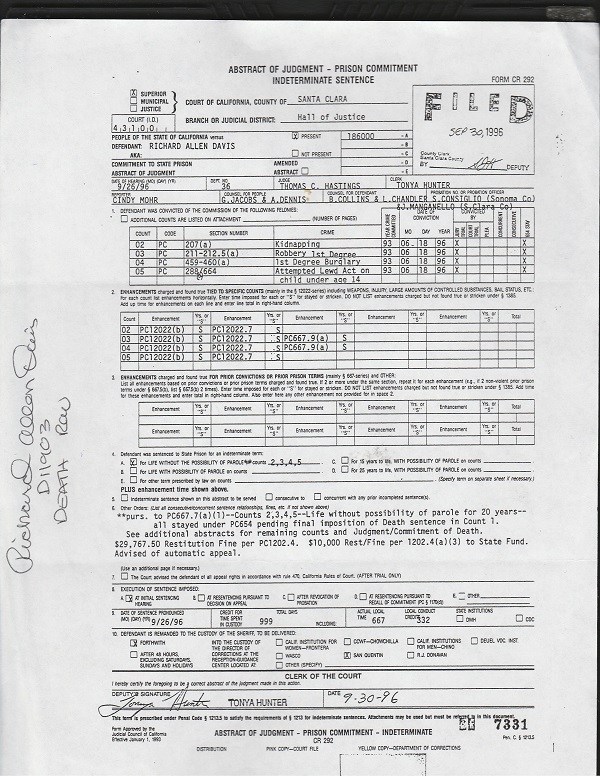 Richard Allen Davis signed copy of document
Richard Allen "Rick" Davis (born June 2, 1954) is an American convicted murderer, whose criminal record fueled support for passage of California's "three-strikes law" for repeat offenders. He is currently on death row in Adjustment Center at San Quentin State Prison, California. He was convicted in 1996 of first-degree murder and four special circumstances (robbery, burglary, kidnapping, and a lewd act on a child) of 12-year-old Polly Klaas. Davis abducted Klaas on October 1, 1993, from her Petaluma, California, home.
A San Jose, California, Superior Court jury returned a verdict of death on August 5, 1996. After the verdict was read, Davis stood and made an obscene finger gesture at the courtroom with both hands. Later, at his formal sentencing, Davis read a statement claiming that Klaas had said to Davis, "Just don't do me like my dad," just before Davis killed her, implying that Klaas' father was a child molester. Polly's father, Marc Klaas, reacted by shouting, "Oh, burn in hell Davis! Fuck you!" Klaas then left the courtroom to avoid causing further commotion. Judge Thomas C. Hastings proceeded with the formality of the death sentence, saying "Mr. Davis, this is always a traumatic and emotional decision for a judge. You made it very easy today by your conduct.
This is a signed copy of Davis' Prison Commitment Intermediate Sentence. It is signed in full, with Davis' CDC number.