Todd Kohlhepp owned zip ties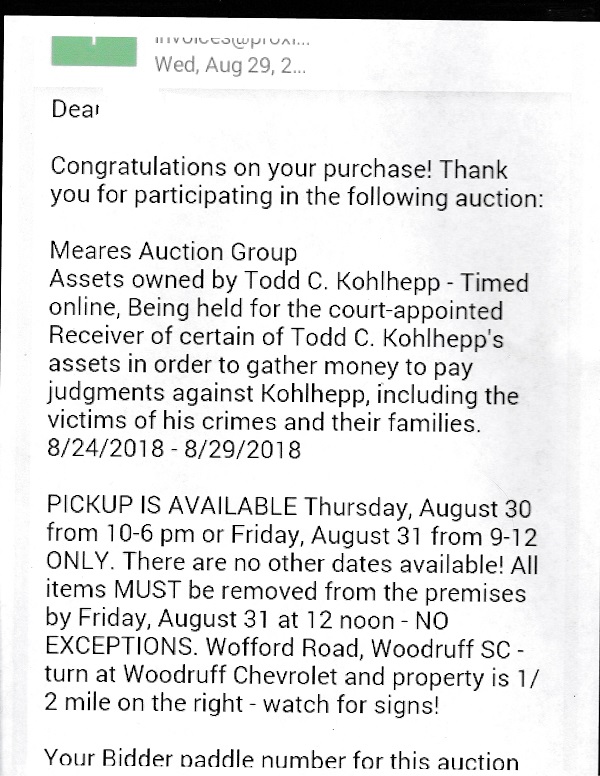 Todd Kohlhepp owned zip ties
Todd Christopher Kohlhepp is an American serial killer, convicted of murdering seven people in South Carolina between 2003 and 2016
On November 6, 2003, a customer found four people shot to death inside Superbike Motorsports, a motorcycle shop in Chesnee. The victims were identified as owner Scott Ponder, 30; service manager Brian Lucas, 30; mechanic Chris Sherbert, 26; and bookkeeper Beverly Guy, 52, who was Ponder's mother. All four died from multiple gunshot wounds. Before Kohlhepp confessed to the shootings in 2016, investigators believed that the gunman, armed with a pistol, entered the shop from the back and killed Sherbert as he worked. He then killed Guy in the middle of the showroom, Lucas at the main doorway, and Ponder in the parking lot. According to Ponder's wife, Kohlhepp was a disgruntled customer who had been in the shop several times. According to Kohlhepp's mother, he attempted to return a motorcycle there, but the employees laughed at him, would not return the money he had paid for the motorcycle, and embarrassed him for not knowing how to ride one.
On August 31, 2016, Kala Brown, 30, and her boyfriend Charles David Carver, 32, went missing after they went to clean Kohlhepp's residence. Carver was later found dead of multiple gunshots on Kohlhepp's property. Interest in the disappearance of Brown and Carver increased as a result of messages posted to Carver's Facebook account following their disappearance, the unusual nature of which prompted speculation that another party had taken control of his Facebook account. On November 3, Brown was found by authorities, chained to the wall inside a metal storage container on the property. Investigators had tracked her down after tracing the couple's last known cellphone signals, after which they heard banging noises coming from inside the container. A search of Kohlhepp's property recovered Carver's vehicle, which was found in a ravine covered in brush. According to Brown, she witnessed Carver being shot. Kohlhepp's mother claimed Carver was killed for having a "really smart mouth", which Kohlhepp did not like. He also said he kept Brown captive because she did not do anything wrong and that he did not want to hurt her.[25] During her captivity, Brown was intimidated into not escaping after having been shown the graves of Kohlhepp's other victims.
Two bodies were discovered on Kohlhepp's property following his arrest, on November 6–7. They were later identified as husband and wife Johnny Joe Coxie, 29, and Meagan Leigh McCraw-Coxie, 26, residents of Spartanburg who were reported missing on December 22, 2015. They were allegedly hired by Kohlhepp to work on his property. McCraw-Coxie had been killed by a gunshot wound to the head on December 25 or 26, while Coxie had been killed a week earlier by a gunshot wound to the torso. According to the county coroner, they were identified through their extensive tattoos.
Kohlhepp was charged with four counts of murder in relation to the Chesnee shootings, and one count of kidnapping in relation to Brown's abduction. He was later charged with three additional counts of murder for the murders of Carver and the Coxies, along with one additional count of kidnapping and three counts of possession of a weapon during the commission of a violent crime. Kohlhepp's next court appearance was scheduled for January 19, 2017, but on that date, Kohlhepp's attorney waived their right to appearance. According to a report by WLTX, relatives of the Chesnee shooting victims will also file a wrongful death lawsuit against him. On December 1, it was announced that Brown will also file a civil lawsuit against him. On May 26, 2017, Kohlhepp pleaded guilty to seven counts of murder, two counts of kidnapping and one count of criminal sexual assault and was sentenced to seven consecutive life sentences without the possibility of parole in a plea bargain that spared Kohlhepp from capital punishment.
The zip ties were owned by Kohlhepp and were obtained from the estate sale.
sale